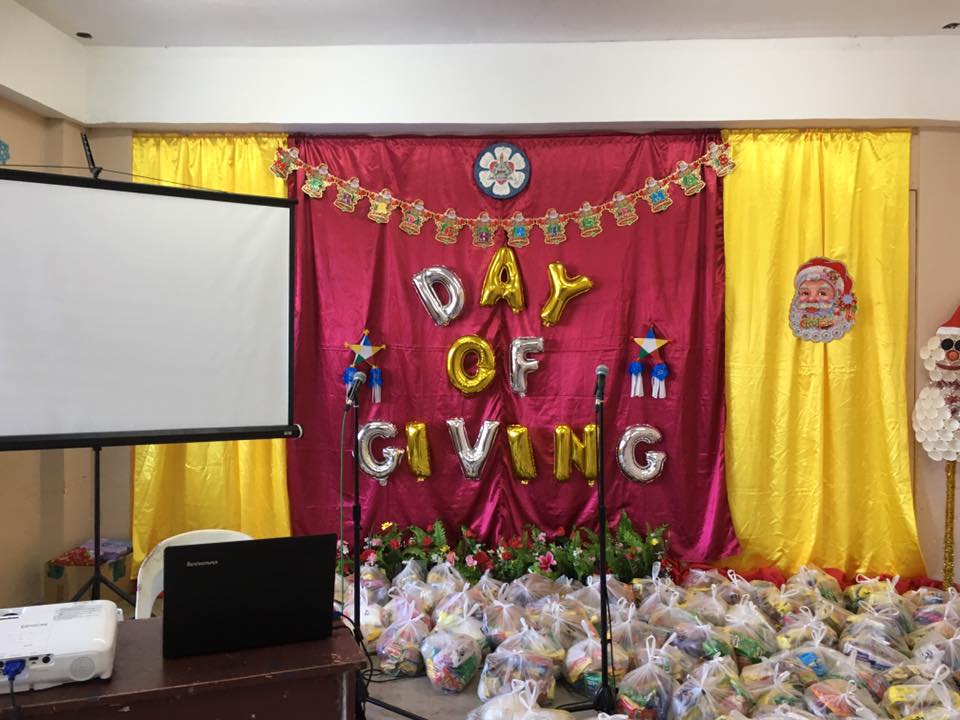 It has become a tradition for Vox Dei Academy (VDA) every December to hold Day of Giving for the less fortunate children of Gen. Mariano Alvarez, one of the progressive towns in Cavite. Geared toward to engage students to a concrete and worthy service to the community, this school year's program was again a successful one.
The project started in 2010 with the initial 50 beneficiaries. Year after year, recipients increase, and in 2016 occasion, more than 200 less fortunate children were blessed by this program. Last year Day of Giving was held on December 20, 2016. The faculty and staff were given task to identify who are the most unfortunate children, ages between 7 and 12, in the community and invite them to come. Vox Dei's students and parents organizations were also asked to look for possible recipients. All students were encouraged to donate whatever they can afford to instill the virtue of giving especially during the holiday seasons.
In the afternoon, children flocked the school ground for registration. The program started at exactly 1:00 PM hosted by the student leaders of VDA Student Government Organization (SGO), the supreme student body of the school, which spearheaded the project.
Gracing the occasion was Ms. Elena Villarta, the SGO faculty adviser. On her speech, she underscored the history of this event and the reason why it is done every year. She also acknowledged the various sponsors who unselfishly donated gift packs, toys, prizes for the raffle draw and cash spent for the food and meals. She likewise praised the SGO, as well as the other students from different levels, with their concerted efforts toward the success of this project.
This event aimed not only to teach the children to know the goodness of sharing and giving, but to proclaim, most importantly, the Good News as well. Selected students were joyfully narrated Bibles stories and a film presentation on stories of the Parable of Jesus was also shown. Students from the Elementary and High school departments also showcased their talents through singing and dancing.
Inspired with the true meaning of celebrating the birth of our Lord Jesus Christ – that is God's love to mankind that He sent His son to die on the cross for our sins and live again in three days so that we'll be saved! This great love transcends so that we may also share our love to our neighbors, especially to the children, the elderly and the less-fortunate people. Vox Dei Academy is looking forward for another Day of Giving next year!
The project team of schools500reformation thanks Mr. Lovejoy Abadiano for sending the text and pictures.