During the schools500reformation network conference in Soesterberg, Netherlands in December 2016, Vox Dei Academy (VDA) received a prize money of €500 for participating in the "Protest for the Future" activity.
Blessed to receive the money, VDA spent it by sending high school students to Concordia Children Services (CCS), an institution for orphans and abandoned based in Manila. The goal was to hold an outreach program. This service trip is one of the immersion activities of VDA for the students to expose them out of their "bubble" and experience the real-life situation.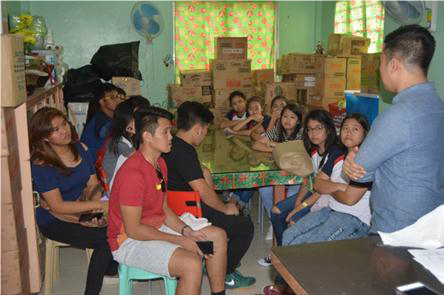 Two batches of students from Grade 11 joined this service trip. As they volunteered to be part of the trip, students were excited to visit the institution and prepared some programs for the orphans.
During the visit, students were oriented what the purpose of the organization is and how they run it and the challenges they encountered. Students were also given the chance to take care of the orphans and be able to show their love and compassion to these hapless children. They were also told of the stories of each orphan and how they got in the institution as related by their caregivers.
They presented a short program for the children to make them happy and entertained through singing and dancing. They also brought toys and children's stuff for their daily needs.
Carmelita Tambaoan (Grade 11) says: "We all felt the joy they have inside as we take care of them. I realized how fortunate I am to have a family. I was moved by their situation and hope to be able to help too in my own little way."
This article was handed in by Eljay Abadiano, Headmaster of the Vox Dei Academy and Ambassaador of the Philippines. Thank you!